Visit of the Graphite Mine Český Krumlov / 16th September 2022 / The event will be organized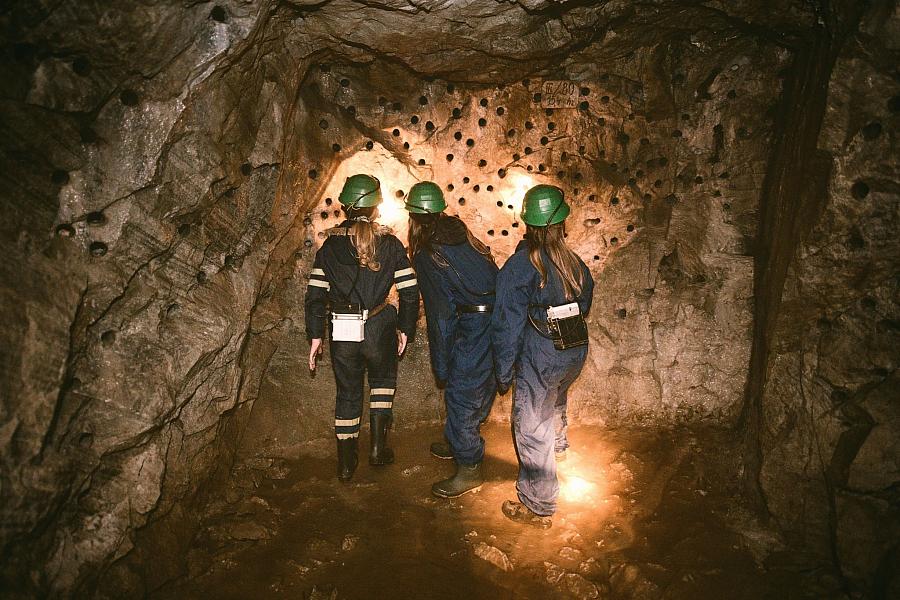 Are you curious about graphite mining? Do you want to discover the miner's work?
The event will be organized
During your visit to Český Krumlov, you can use the opportunity to visit the Graphite Mine and walk through its attractive underground.
Prior to the tour, put on the borrowed mining garment, shoes, and protective gear. Part of the equipment includes a mining lamp. You will get underground by a mining train, formerly used by the miners during their shifts. After arriving at the 1st station, you will get out of the train and continue further on foot.
During the tour, you will acquire a first-hand experience of the machines and the working conditions of the miners. The tour guide will tell you about the manner of the mining, and about how graphite was further processed. The whole excursion takes place under the supervision of a tour guide.
The tour is 2 km long (1200 m by train, 800 m on foot); the tour takes approximately 70 minutes. The premises of the Graphite Mine offer refreshments, parking, and a souvenir shop.
To take pictures is possible - but very limited, please respect the guide´s instructions.
Timing / Service:
 
10:00 a.m.
Meeting with the guide in front of the Infocentrum Český Krumlov 
10:00 - 10:30 a.m.
Walk to the Graphite Mine (ca. 20 min walk from the town square)
 
10:30 - 11:45 a.m.
Visit of the graphite mine with the Guide - EN
 
11:45 - 12:45 a.m.
Walk back to the town center
 
 
Price in CZK per person 360,- CZK
Approximate price in EUR per person per program 15,- EUR
Basic terms and conditions: 
Min number of participants: 15
Max. number of the participants: 30
Booking form: 15th May 2022 via Excursion webpage of the conference
Latest date for booking: 10th September 2022
Free cancelation till 4th September 
Language: ENG
Free cancelation till: 4th September 2022
Late cancelation Fee: 
till 10th September - 30%
11th-13th September - 50%
later than 13th September - 70%